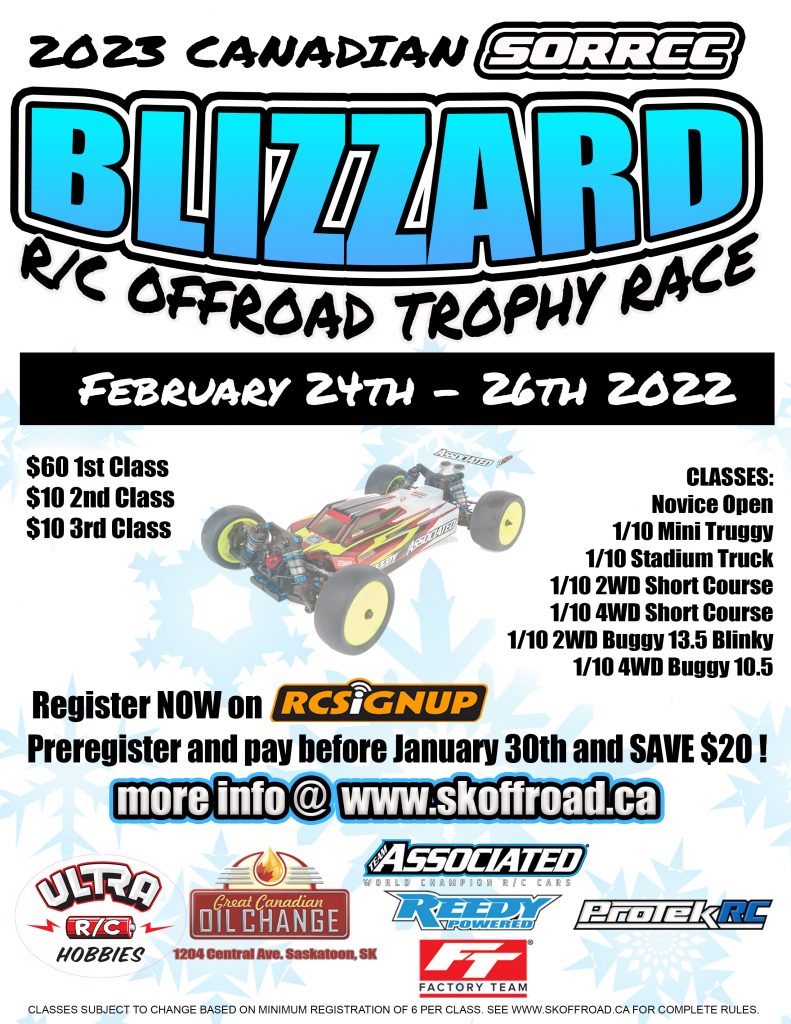 SORRCC BLIZZARD is Back! One of our most anticipated trophy races in our winter series!
Title Sponsor:
Ultra R/C Hobbies – 1010 Taylor St E #40, Saskatoon, SK S7H 1W5
Great Canadian Oil Change – 1204 Central Ave, Saskatoon, SK S7N 2H2
Team Associated – www.associatedelectrics.com
Reedy Powered – www.associatedelectrics.com/reedy
Factory Team – www.associatedelectrics.com/factoryteam
Protek RC – www.amainhobbies.com
$60 for the first class
$10 for each additional class
Preregister and Pay before January 30th and save $20.
Classes:
Novice Open
1/10 2wd Stadium Truck
1/10 Mini Truggy
1/10 2wd Short Course
1/10 4wd Short Course
1/10 2wd Buggy 13.5 Motor Limit
1/10 4wd Buggy 10.5 Motor Limit
Register on RCSIGNUP now and pay via etransfer to saskrcpay@gmail.com .
*Once we have received your payment within 24 – 48 hours we will update you status on RCSIGNUP as "PAID."*
Minimum 6 entries for class to run. Indoor 1/10 offroad rc racing!
For complete rules and regulations CLICK HERE